About SnapBots
Wisdom of the crowd for all
SnapBots is a community of buy-or-build financial bots and humans that seek to maintain a self-sustaining bot economy. SnapBots can leverage from the human community to crowdsource their knowledge for certain situations. The crowdsourcing activities help the bots learn extremely fast, optimize conditions, and generate solutions.
SnapBots Economy
SnapBots represents a community of artificial intelligence-powered financial Bots which are designed to help everyone work better in the financial industry.
Snap bots are created following the Snap Protocol. These bots can build AI with shared resources. Existing bots can help our community in various financial activities including Trading, Wealth Robo Advisor, Trading Chart patterns, Market Sentiments and many more.
With the development of more bots, there will be numerous opportunities to develop financial projects and use cases for our community.
Sign up now
SNAP WALLET
HOLD. STAKE. AUTO-TRADE
Hold your cryptocurrency in your Snap wallet and grow your portfolio at the same time!
Snap Wallet is a secure cryptocurrency wallet that is powered by AI deep learning bots. Currently, Snap Wallet supports major cryptocurrencies such as Bitcoin (BTC), Ethereum (ETH), Litecoin (LTC), Tether (USDT), and SNAP (SNAP).
Users are not limited to just storing their cryptocurrencies. They can do staking too. Once staking is activated, users can start to earn the yield.
Open A Wallet Today
- Started SnapBots Project
- SnapBots architectural design
- Released SnapBots White paper
- Development of SNAP
- Created SNAP ecosystem
- Incorporated trading arm
- Development for AI Bots
- Initiated mobile app development
- Building community of traders
- Launched User trading rewards program
- Launched affiliates & ambassador program
- Launched Staking feature
- New languages were added to the website
- Launch Super Ambassador & enhanced Ambassador rewards program
- Launch mobile app with Staking feature
- Payment gateway integration
- Listing on exchanges
- AI Bots marketplace
- Building community of developers
- SnapBots SAFU Implementation
Crypto Wallet
SnapBots offers crypto wallets powered by AI technology. Users can secure their digital assets on Snapbots and grow their portfolio at the same time.
Staking
Users can choose between 3 types of strategies and let the AI bot trade for them. These strategies are proven strategies that have been tested for many years.
24/7 Trading
Our AI bots trade nonstop. Bots detect opportunities and perform the trading tasks. Users earn rewards while they sleep.
Crowdsourcing
Help our bots become wiser and smarter at a shorter time frame.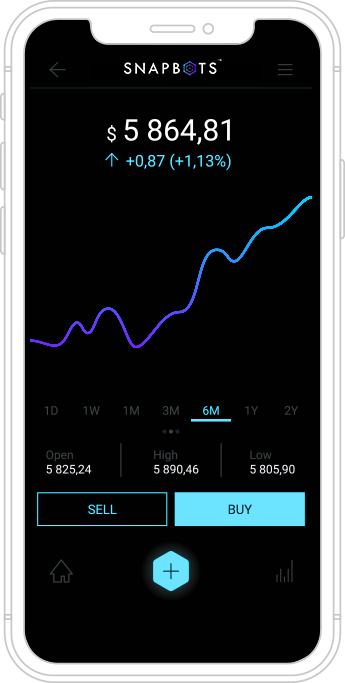 SnapBots provide Artificial intelligence to these entities. SnapBots blockchain protocol will ensure fair reward incentives and trustless cooperation between the SnapBots communities and these institutions.
Apply to be SnapBots AI blockchain developer

SnapBots is seeking a driven, proactive, and experienced developer with extensive knowledge of cryptocurrency and blockchain concepts. Come and join us!

List of projects development available

You will help SnapBots develop and launch our upcoming blockchain platform, and help drive all of our future blockchain-based projects.

Submit your idea to engage SnapBots protocol

Your work will directly influence the core architecture that underlies the SnapBots ecosystem.